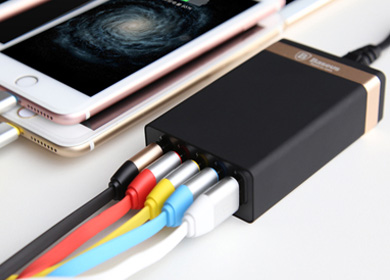 Baseus Wall Duelpower 5 port usb
Φόρτισε οικονομικά γρήγορα και αξιόπιστα 5 συσκευές ταυτόχρονα !!
Features:
• 5 ports available for fast and simultaneous charging, up to the total 8A current output.
• Wide compatibility with various electronic devices with 4A current output via single port.
• Can smartly detect appropriate current level to protect the phone against overcharging.
• AC 100 - 240V wide voltage range, with the smart and safe adjustment, freely adapt to different power environment especially during your travel.
• Built-in smart protection, prevent it against overcharging, over-pressure, high temperature and short circuit.
• Fire-resistant ABS material to resist burning, smooth paint surface to make it durable and long lasting.
• Small and exquisite for easy carry, absolutely perfect for business trip.
• Neat and organize with the phone stand to hold the devices.
Specifications:
General:
Type: Potable Moblie Powers, Brand: Baseus, Model: C45 Connection Type: USB 2.0, Product weight: 0.153 kg, Package weight: 0.350 kg
Dimension and Weight:
Product Size(L x W x H): 9.50 x 6.00 x 2.70 cm / 3.74 x 2.36 x 1.06 inches, Package size (L x W x H): 11.50 x 8.00 x 7.50 cm / 4.53 x 3.15 x 2.95 inches
Package Contents:
Package Contents: 1 x Baseus 5 USB Charging Port Charger, 1 x 1.2m Power Cable, 1 x Bracket, 1 x Bilingual User Manual